---
MESSAGES OF OUR LADY TO PATRICIA MUNDURF
---
[ Previous Page | Next Page ]

[ Jan 3rd 1998 | Jan 9rd 1998 | Jan 16rd 1998 | Jan 19rd 1998 ]

[ Jan 23rd 1998 | Jan 29rd 1998 | Jan 30rd 1998 ]
---
Mary said, "My Dear Children, I come to you today as the Mother of All the World. How I love your Mass. Nothing in your world compares to your Mass. That is the Sacrifice that God offers for Man,--His Body and Blood.

Let yourselves radiate with joy my children. Share your love of God with all you know, and pray for souls to be saved. I will guide you to your destinations as God gives all of you crosses to bear. Bear them patiently, my children.

There will be many spiritual battles against evil for you, as you speak of God's Love and infinite Mercy.

Pray, my children, for all the lost souls, that they return to their faith.

Pray, my children, as the hour of judgement will come soon! Do NOT wait for the Warning to try and change.

I ask you to pray my Rosary for the redemption of souls. Many people are leaving their Church in search of material riches from the Evil One.

Pray also for all your holy ones, that they stay with the Church and teachings of the Twelve, with Peter.

Pray, Pray, PRAY for all the unborn children who are murdered! This is such EVIL, and against one of the great Commandments!!

My children, I ask that you keep Pope John Paul in your prayers. He is a very holy man and is trying to return many lost souls back to God.

Before the hour of judgement, you have two popes before the Anti- Christ takes over Rome. This I tell you so you will know God's Love and Mercy He has for all of His children.

The descent of the Holy Spirit will come on many in the future. Do not be afraid my children, as this only brings more love of God.

I thank you for responding to my call, and Bless all of you here and all of your possessions you bring to me.

I ask you to wear your scapulars and medals, as they are also a constant reminder of my love for you and your safety.

Pray for your Church. It needs to teach its children of the meaning of the Eucharist. Make it known that you receive Jesus' Body and Blood.

I thank you children for all your prayers and sacrifices you have made.

Back to top of the page
---
Pat Mudorf of Phoenix, AZ, was doing dishes in her kitchen when the Blessed Virgin Mary suddenly appeared and asked Pat to pass on this message:

Mary said, "Pray my children, the time is coming SOON. Your weather changes are beginning. Your earth is getting warmer. God is ready to bring His wrath down on you very hard. It has been written.

PRAY, my children!

Turn back to God NOW!

Tell your neighbors and friends that the Time is upon you!

We will guide you by the light after the darkness. You must follow the light. The Cross will be in the heavens.

Keep your crucifix and Rosary at hand. Do not worry my children, We will keep you from the devastation that is about to befall you.

Remember the light. It will keep you safe."

Back to top of the page
---
Mary said, "My dear children, today as I come to you, I wish to thank you for responding to my messages. There have been many souls saved and many converted back to their Faith.

I have told you that the time is coming SOON, when you will have your Warning. Every person must go thru this, as then you will know your sins. Many will die at this time; many will return to their faith.

Your churches must prepare for the souls that will be coming to them, and you are part of that Church.

All will know this is from God. Know, my children, that within one year of your Warning, THERE WILL BE A MIRACLE.

Many who are present for this Miracle will be healed of their afflictions. Then you will KNOW this is from God.

You must pray and sacrifice for souls to be returned to God.

You ask about prayer:

My children, prayer will save souls, release souls from Purgatory, stop crime, stop wars, and, YES, my children, PRAYER CAN EASE YOUR CHASTISEMENTS.

You ask of me, ÎWhat can one Hail Mary do?' I have just told you about prayer. -The Lords Prayer is your STRONGEST prayer and will release many thousands of souls. But, my children, your prayer must come from your HEARTS,--not just from your lips.

Pray, Pray, PRAY, my children!

REPENT of your sins!

CELEBRATE my Son's Life, Death and Resurrection!

Have JOY in your life!

You are NOT to worry nor to seek the answers of time. Only God knows the Hour He will return, and that is ever-changing, due to your prayers and the change of men's hearts.

I come to warn you that the time is SOON, so you can prepare and save many souls. It is only thru prayer that your End Times can be mitigated.

I ask you to love your neighbor as Jesus loves YOU.

Do NOT question God's Love and Mercy. It Is FOREVER. Ask and it shall be given to you.

Pray, Pray,-----PRAY!!!

(Pat was shown a vision of a GREAT Miracle occurring at Phoenix, Arizona, and was asked by Mary not to reveal to others what it is.

During the Miracle, true believers who are present will be healed of all afflictions.

Shortly before the Miracle is to occur, Mary will tell Pat the date. Pat, in turn, will tell four chosen people, who in turn will broadcast it to the world and assure attendance by the faithful and massive press coverage in Phoenix.)

Back to top of the page
---
Mary awoke me with her words.

Mary said. "The time is now, dear, for you to be taught some of what you are to know of the future signs:

My daughter, you ask me of the Miracle that will happen within one year of the Warning from my Son. This, I tell you, will be at ALL PLACES ON EARTH WHERE JESUS AND I HAVE APPEARED TO OUR CHILDREN. At ALL of these places will be miracles of cures, to those present at these places who believe in Jesus. The world will know this is from God.

The Miracle will leave a permanent sign for ALL to see.

I will tell you before the Miracle happens, seven days ahead, so you may start to prepare. Then, when there are three days left, you may tell the four people whom I have told you to tell. They then are to prepare my children for the Miracle and healings.

There will be no problems with ANY of your communications systems, Jesus allows this so many thousands will see this Great Miracle, from your media sources."

( Pat was shown the Miracle, but can not reveal it. She does say, " It is so beautiful and overpowering, words cant explain it!")

( Pat also has been told that she is to tell Joe Hunt and her spiritual advisors and husband three days before the Great Miracle is to happen )

Back to top of the page
---
Mary said, "My children, what I am to say to you is through the Love and Mercy from my Son, Jesus, and I, His mother:

Why, WHY, do you CONTINUE to pierce Our Hearts with your hatred of all that is good?!

The days of your sufferings are being COUNTED, my children, because of your sins and false gods.

Your world has REBELLED against God and His Commandments.

Your evil ways have reached to ALL corners of the world.

My children are despairing and LOST in the midst of the evil that surrounds you.

Even in my Church, there are wolves in sheep's clothing, and they are trying to bring ruin to many souls.

THIS YEAR WILL NOT END BEFORE A GREAT SIGN HAS COME UPON YOU!

The time has come for my Son, Jesus, and I, His mother, to appear in many more places and hearts.

The days are passing and the moment is coming when my Immaculate Heart will crush the serpent's head.

Pray, Pray, PRAY, my children! I will gather you together from every part of the world through my prayer I have requested of you, My Rosary. This will help to contain the Great Apostasy and mitigate your chastisements.

My words MUST be spread about the world, for all to hear and see.

My children, pray and save souls WHILE THERE IS TIME.

You MUST put Jesus FIRST in your lives.

Come to me, my children. I will keep you safe with my Motherly Mantle of Love.

My children, we love you all so VERY much and want you to be safe and happy.

Thank you, dear children, for your responses to my requests for prayer, and the saving of many souls.

PRAISE JESUS FOR YOUR MANY SIGNS."

(Mary added after her message that we should be reading the Gospels of
1 . MARK
2 . MATTHEW
3 . JOHN
4 . LUKE

May you all be Blessed by Mary"s Immaculate Heart, -Pat Mundorf)

Back to top of the page
---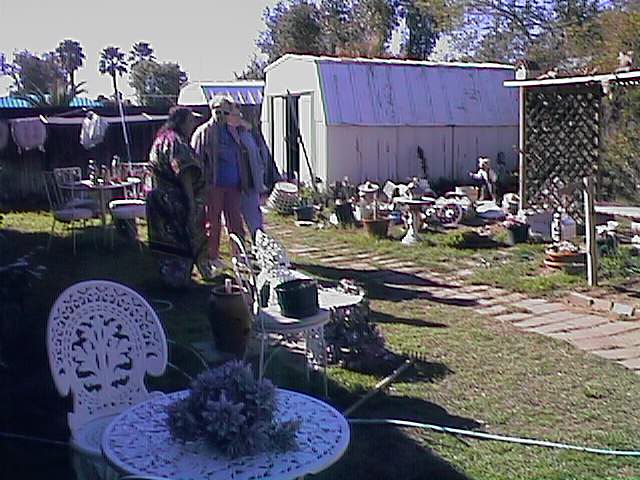 Our Blessed Mother came to me in my home,
after I had been working in my yard all afternoon.
She told me, "Be still my daughter,
as I have come to show and teach you
of the events that are about to happen."

(I was then given a vision of sand, light tan, almost white, and water, very dark water. Also, large metal, see-saw shaped constructions, along with tall metallic-looking A-shaped structures with a lot of crossbars, like ladders, but pointed at the top.
There were planes overhead, ships in the water, grey smoke everywhere, and skies with pinkish streaks in them. Grey smoke was all around, and there were huge holes in the ground, while Arabian-looking men, women and children, were laying dead, all around, many CHILDREN. There were American or European-looking bodies laying there also.
Surrounding me was the most horrendous noise I ever heard,--bombs exploding, with thundering sounds all about. Worst of all were the screams, moans, and crying surrounding me. Many screams were those of small children....
Blood was EVERYWHERE. And many buildings were demolished.
Mother then showed me the boot-shaped country, Italy. There was a huge mountain exploding fire from its top. People were running and vehicles were all over, trying to leave. Curiously, other people were just standing around, just looking at this mountain as if it was Îno big deal.' Some were even LAUGHING).
Mary said, "My Children, when you see this mountain of fire, know that your purification is about to START. PRAISE GOD and do NOT Fear.
Oh, My children, PRAY! Do your sacrificing NOW, while there is time to save many more souls! Lead my children back to God!
Where are your EYES, as you do not see?
Where are your EARS, as you do not hear ?
Where are your HEARTS, as you do not love?
Your evil times are about to come to an END!
You have been WARNED, my children!
Pray. Pray! PRAY!!
Let The Father know your love, and have HOPE."
(Mother showed me the TWO HEARTS together, surrounded by a lot of big thorns. The Two Hearts are BLEEDING, and Mary is standing beside them, and is CRYING....)
Mary said, "PLEASE, my children, remember all that you have been taught by your Holies: pray, confess your sins, receive my sons BODY & BLOOD; LOVE Him, and ADORE Him. He DIED for your sins,--can you NOT do as He asked of you at the Last Supper?
Oh, WHY do you sin so EASILY?
Your sins are as an arrow, PIERCING my Son's Heart....
It hurts me so, to see Him hurt so badly by the children he LOVES!
Go to church, pray, adore your God. Put Him FIRST.
Support your Church, in prayer, love, and your alms. Your Church is your REFUGE. My Son created the Church for YOU, and you let evil come in like a speck of sand in your eyes. You do not SEE....
My dear children, it is for YOU to change. Ask my Son, Jesus, for help, for all your needs. He will gladly give you what you ask. He is LOVE.
Suffer, my children. Yes, SUFFER. You are weak. Seek Jesus. He ALONE is the One who gave His life for your sins.
The time has come for you to open your hearts and let Jesus come in.
I tell you, as you follow His Passion in His foot steps, you WILL REMEMBER HIS SORROW. My sorrow. Also, you will remember as I am His mother, who comes to you with much love.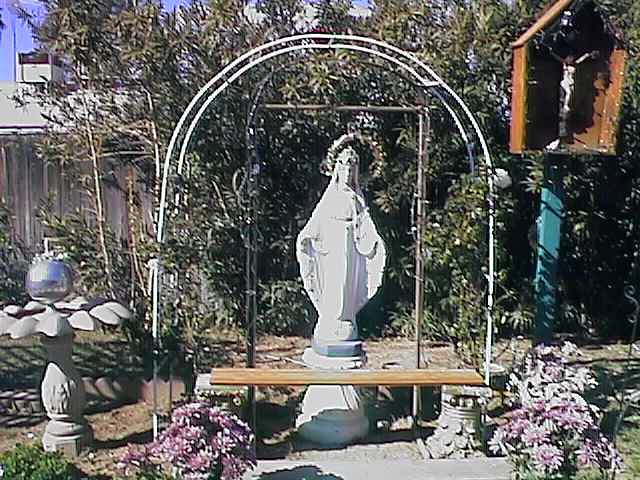 My children, KEEP HOLY that which is HOLY."
(Mary showed me my yard, where her little shrine is,
and she was crying, standing in front of it.)
Mary said, "Why does no one come to SEE ME here?
Do they not LOVE me?" Pat's Shrine

( I had never invited anyone to see the little shrine, it still needs work around it, and being as ill as I have been, I have not done too much.)
(Mary then showed me churches, empty seats, empty pews.)
Mary said, " Where are all the Faithful? Have they all LEFT this place of worship? My children, RETURN to your churches!
Where is your adoration of my Son's Body? I do not see it.
This I tell you: ANY CHURCH WHO WILL HAVE ADORATION OF JESUS' BODY, WILL GROW. THE SINS OF YOUR VILLAGES ( CITIES ) WILL BEGIN TO PERISH AS YOU ADORE JESUS. SPEND TIME WITH MY SON'S HOLY BODY."
(Mary showed me a monstrance, and she was kneeling in front of it. I also was shown a priest holding up the Host, as in the Consecration, and the BODY OF JESUS GOING INTO THE HOST, LIKE A VAPOR FROM ABOVE...)
Mary said, " Pray, my children, PRAY! Confess your sins, take my Son's Body into yours. Remember your Laws, given you by God. LIVE these laws!
Look to the Light, my children. THE HOLY SPIRIT IS ABOUT TO COME ONTO YOU."
***SPECIAL NOTE***
Everyone is welcome to come to my little shrine for Mary. Ring my bell. -Pat.
Patricia Mundorf
8608 W. Heatherbrae Dr.
Phoenix, AZ 85037
Fax: (602) 873-2858

For the readers' information, there is an Italian volcano web site here
Joe Hunt
NJ Knights of the Immaculata
Internet Advocate for Patricia Mundorf
amexport@ix.netcom.com
Back to top of the page
---
"My dear daughter, I come to you today with SUCH LOVE, for you and for ALL THE WORLD. My heart bleeds for all my children, some are in such pain, but they are to know that as they suffer, I do also. But they will know much happiness when they leave this world, IF THEY GIVE THEIR SUFFERINGS TO JESUS.

YES, my children, Jesus has healed many people. He will heal those who come to my Shrine here, if they are pure of heart, and ask Jesus from their hearts.

Know this, my children, NOTHING happens that does not come from God. He is your Heavenly Father, who only asks that you be faithful to Him, for by being faithful to God, you can do nothing BUT love.

My children, my last message to you, I know was frightening, but they MUST be for some to surrender themselves to Gods will.

What will it take to have my children return to their Fathers Love ?

Look around you my children, all you see and hear is from The Father. See how much He LOVES you. Leave your will behind, and give ALL to Gods will.

You ask of your Mother Angelica, who has suffered so much for so many, YES she is being healed by the Father. She is pure of heart and knows Jesus deep within her heart. You will do wisely my children, to be guided by her also.

WHAT MORE WILL IT TAKE FOR MY CHILDREN TO BELIEVE???

Please pray MUCH my children, as your prayers ARE being heard and answered.

I leave you in much love.

I am the Mother of All the World, The Mother of All."

Back to top of the page